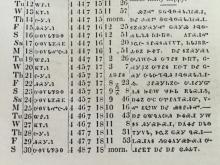 Cherokee Almanac for July 1838
Jul 16, 2016
"Cherokee Almanac for the year of our Lord 1838, fitted to the Meridian of Fort Gibson" was printed in 1837.  The Mission Press was set up at Park Hill before most Cherokee people arrived from the Trail of Tears. John F. Wheeler printed this volume in Cherokee syllabary and English.
Columns give the days of the week, sunrise, sunset, moonrise, and advice for each month.  The advice for June 1838 reads:
"Be always employed, and always well employed. An idler is a thief.—He gets his living from his friends, without paying them for it.  His service is due to his fellowmen, and he steals it from them.  It is his due to his Maker, and he robs his Maker of it.  Every man is bound to do all the good he can.—How pleasant it will be in your last hour if you can say, 'I have not lived in vain—I have made many happy.'"
The first sentence in Cherokee reads: Yanogwo detsalvwisdanehesdi, ale osdv detsalvwisdanehesdi. 
Article categories