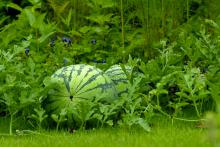 Gvgisdi - Watermelon
Jun 7, 2015
Native to Africa, this fruit (Citrullis lanatus) has spread around the world. It was cultivated by ancient Egyptians more than three thousand years ago, and watermelon seeds were found in the tomb of King Tutankhamen. By the mid-1600s Cherokee people were growing watermelons in their gardens, as well as another new plant, the peach -kwana.
Wiggins Blackfox, from the Eastern Band of Cherokee Indians, shared this about "The Origin of the Cherokee Word for Watermelon."
Two Cherokee full bloods, men, were walking down a dirt road beside a field, and one noticed a round green striped thing lying in the field. One of the men kicked it, and they saw that it was attached to a vine. He picked it up and cut the vine off and asked the other: Ye li gwu sgo gv gi sdi? Ᏸ Ꮅ Ꮚ Ꮝ Ꭺ - Ꭼ Ꭹ Ꮝ Ꮧ, which means, "Is it edible?"
Thank you Wiggins!
Article categories