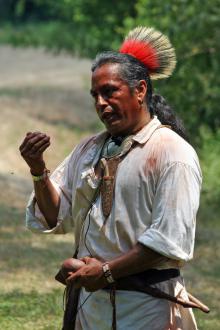 John Standindeer Receives Patent
Nov 23, 2015
John Standingdeer Jr., a member of the Eastern Band of Cherokee Indians, has received a patent for his new and unique method for decoding the inherent patterns in the Cherokee language, making it simple and easy to learn this endangered language.  The U.S. Patent Office issued Patent Number US 9,158,762 B2 on October 13, 2015 for a "new and useful invention" for the "Deconstruction and Construction of Polysynthetic Words for Translation Purposes."
 "We wanted to find a way to learn, and to speak with understanding," Standingdeer said.  "I knew there had to be a pattern."  Cherokee is an endangered language, although it has been spoken in the southern Appalachians for thousands of years.  Among members of the Eastern Band today, fewer than two hundred people grew up speaking the language, and they are all fifty years old or older.  Although the tribe sponsors an immersion school and other programs, second language learners still have problems learning the language, rated by linguists as one of the most difficult in the world.
"We need this method, so that we can explain the language to our students," said Shirley Oswalt, a fluent speaker, teacher, and language activist who grew up in the Snowbird community in Graham County.  Oswalt has used this method in her summer Cherokee language camp. 
 "Every word is like a math equation," Standingdeer explained, "and this equation is the same for every word." This regularity makes it easy for second language learners to master Cherokee, using Standingdeer's method.  This regularity also makes it possible for the language to be programmed to conjugate using the computer.  Other patent holders from the Eastern Band of Cherokee Indians include Saloli, who patented a design for a gun in 1843, and Going Back Chiltoskey, who patented several inventions during his work with the military in World War II. 
Standingdeer's website at www.yourgrandmotherscherokee.com, includes a dictionary with more than 70,000 entries, and two online courses, Level 1 and Level 2.  A feature "Make a Word" allows users to construct Cherokee words using different persons and tenses.  For the month of November, Native American Heritage Month, all courses and online products will be offered at a 50% discount. 
            In addition, the project has created software that will "deconstruct" other polysynthetic languages, showing their underlying patterns.  An institute will be held at the University of North Carolina at Asheville in 2016 to work with other tribes to explore using this method with their endangered languages.
Standingdeer and partners worked on the project for nine years in their spare time.  They were not funded by any group or institution.  They have presented their work at the Native American Indigenous Studies Association, Stabilizing Indigenous Languages Symposium, the Southern Anthropological Society, the North Carolina Folklore Society, the University of North Carolina at Asheville, and the University of Georgia. Their students include members of the Eastern Band of Cherokee Indians and the Cherokee Nation and others around the country.
For more information go to www.yourgrandmotherscherokee.com or email: flyinglizardlanguages@gmail.com.
Article categories